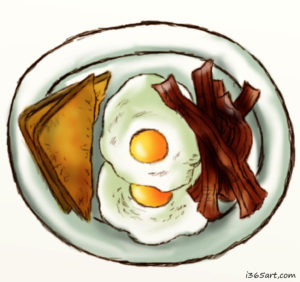 Today is going sooooo much better than yesterday! Will be guest blogging on my friend Sarah's blog sometime in the future. Still deciding what to write about (art, anime, cosplay?) Not sure what i'll write about yet, but i'll try to make it good.
Anyway, I decided to base today's art around food, breakfast in particularly. I can never quite understand why on Earth I like drawing food so much :s? I've just always been a food person since as far back as I can remember. I also like to cook if you didn't know.
These were just some quick sketches I created while watching the news early this morning. I didn't really include much detail in the drawings but I did have fun going over them in color this afternoon. I was thinking of making Kawaii breakfast (draw cute faces on them. Why on Earth do people do that? The food would be too cute to eat xD!)
The reason why the focal point of today's drawings is on breakfast is because it's the one meal I rarely ever miss. On most days, I usually have a big breakfast, I usually don't have lunch unless I'm meeting with friends/family. Otherwise, I don't have time for lunch most of the time.For dinner, I cram in all of my veggies big time!
But anyway, I don't want to make this a post about the foods that I eat through-out the day xD. I'll give you a bit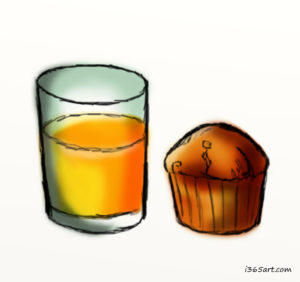 more of a back story on these drawings. Since I go to conventions a lot, I tend to eat at Denny's or Ihop the most since they are the cheapest and most available places to go to at an anime convention. If you ask other cosplayers and con goers in California, they'll probably say the same thing! I'm not really sure what the customs in other states/countries are, but Ihop and Denny's are considered con food here xD.
That and I truly believe that breakfast really is the most important meal of the day. I can run well all day if I eat something in the morning. Lunch is not as important for me as breakfast (I snack throughout the day. Not sure how healthy this is…) I've also been hearing for years that girls who eat breakfast in the morning tend to lose and keep weight off easier. I can vouch for this personally! I've never had any weight problems.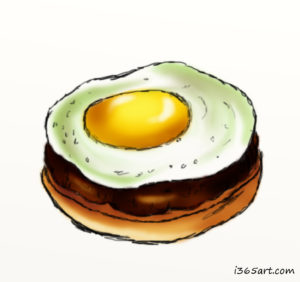 If you haven't noticed this, I am beginning to post more than one drawing every day now and am somewhat having a blast doing this. I think this is a great idea because it's a great way of letting you guys know what's on my mind for the day. I'd like to eventually write little blog stories everyday using my daily drawings as well. I hope you guys enjoyed this! See you tomorrow :3!
[purchase_link id="3134″ style="button" color="blue" text="Buy all 3 images for commercial-use." direct="true"]