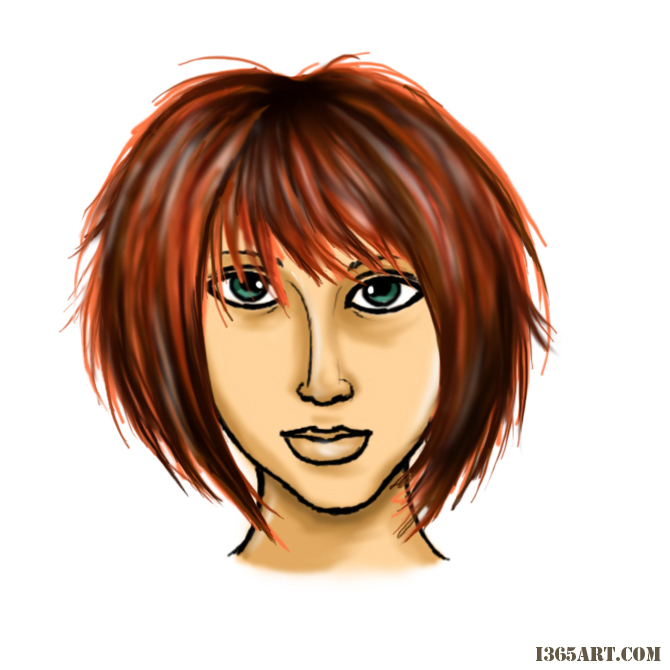 I got a little busy again so I decided to write a post about my latest tutorial today on the blog. This one is a little bit different from my last ones. Instead of just simply drawing something, I have provided a method of painting on digital hair using the Photoshop program.
I'm also thinking of creating a tutorial for detailing a face. I think that thing that looks kind of awkward because the hair is super detailed but the face isn't. The face is from a previous tutorial I made early this week, so that kind of explains why the hair and face look totally different from one another. As always, I usually never spend any more than 30 minutes to an hour on any of my tutorials since I have school and other boring real world things that need to get done x.x. As much as I'd like for it to be, the I 365 art blog is not my #1 priority at the moment.
Maybe after I graduate from college, I can sink in some real woman hours on this thing. See what all I can come up with once I had the time. Anyway, I have a ton of crap to get done today. Hopefully I can rest a little this weekend. I've been living on a few hours of sleep a day this entire week x.x.
Also just thought i'd throw this out there since I'm pretty sure not everyone can keep up with my posting schedule. If you haven't already seen it, I made a Medusa drawing/painting a couple of days ago. Feel free to check that out. Have a nice Thursday!
Peipei's $5 Art Commissions page
How to draw on Hubpages